The right sink can make a big difference in the appearance and functionality of your kitchen, having an impact on everything from cleaning and meal preparation to overall aesthetic. Today, available in a variety of colors and materials, there's a kitchen sink to fit every lifestyle and decor. We've put together some tips for finding the perfect style, size, and configuration to help determine which are right for your kitchen.
Kitchen Sink Types
The first consideration when looking for a new 
kitchen sink
 should be the look or style, which is easier to think of in terms of the installation type. It narrows the field of choices and makes the process less overwhelming.
Farmhouse Sinks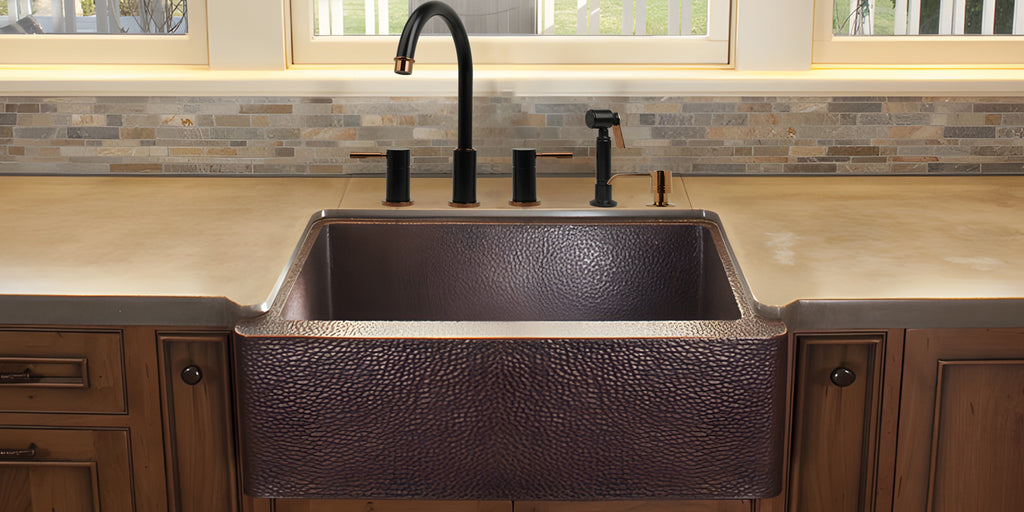 Also known as apron-front sinks, the deep, wide, basins of the farmhouse kitchen sink are perfect for washing large pots, pans. The front of the sink replaces the front edge of the countertop cabinetry, creating a decorative panel out of the sink design itself. Adding a touch of chic country charm, farmhouse sinks are available in a variety of sizes and materials.
Undermount Sinks
Undermount sinks are attached below the countertop and create a flat surface, making work-area cleanup easy. The sink wall should be installed to line up against the finished edge of the countertop to provide a seamless drop from the counter into the sink.
Drop-In Sinks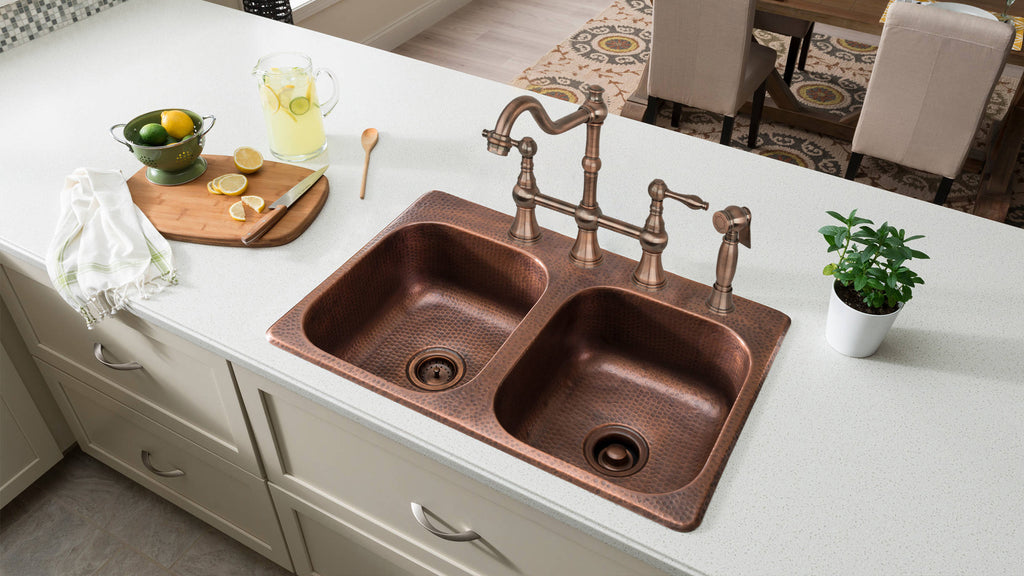 Drop-in kitchen sinks (or top-mount, self-rimming sinks) are set into a hole cut into the countertop and are the easiest to install. Drop-in sinks sit on top of the counter cabinet and have a raised, rounded edge to help keep water and debris inside the sink.
Bar Sinks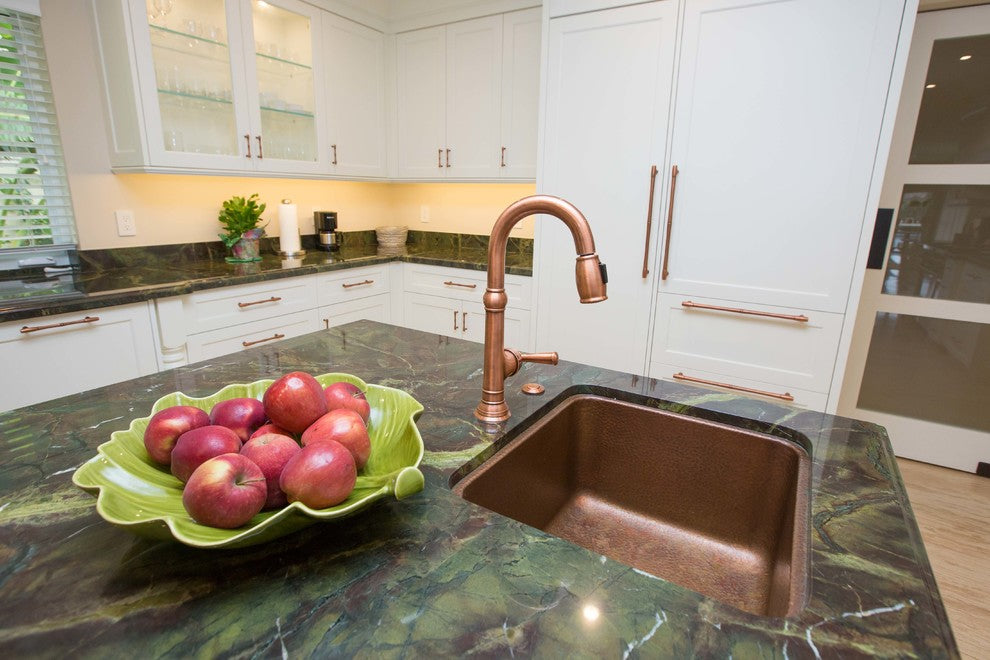 Another unique type of sink is the bar sink or prep sink. These can be drop-in, undermount, or farmhouse kitchen sink installation styles, but they stand out as their own installation type because of their differences in purpose.
The bar sink is often used complementary to the kitchen sink, for drinks and entertaining, rather than for the regular wear and tear of a sink full of dirty dishes needing soaked and washed. The prep sink is smaller, usually running narrower and shallower than the kitchen sink, and will usually be found on the kitchen island or a prep area like a wet bar or as a kitchenette sink.
Number of Basins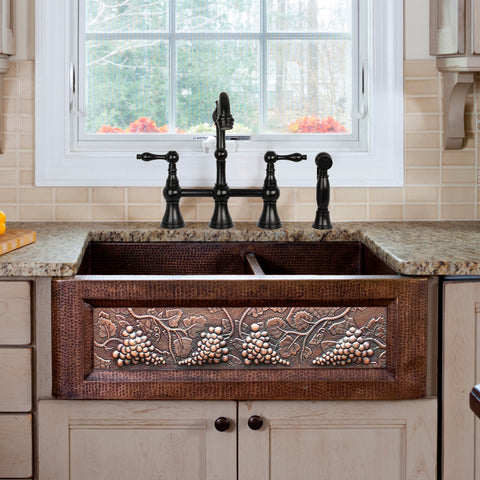 Kitchen sinks are available in single, double and triple basin kitchen sink configurations. As you look over the options, you'll find measurements for the basin split, which refers to the percentage of space each basin takes up for a double bowl sink. The most common options are 50/50, where the sink bowls are the same size, and 60/40, where one basin is larger for larger pots and pans. Another common kitchen sink configuration is to install the 
garbage disposal
 in the smaller basin of a double basin sink, to use the smaller side as a prep sink.
Some split basins have different depths between the sides of the sink, while other features may include interior racks to help keep the drain clear of dishware. There are also multiple 
kitchen accessories
 available to customize your sink.
Here are a few advantages of each to help you choose which basin configuration is right for the way you work.
Single Basin Sink
Wide-open soaking area.
Great for large pots and pans.
Typically offers a much deeper basin than double or triple sinks.
The drains may be placed off to one side, with the sink floor sloped to one side to help move liquids more quickly and keep the sink cleaner.
Double Basin Sink
Double basin sinks are great for working on separate tasks, such as washing and rinsing.
You can choose between equal sized basins or one small and one large basin.
Basins may be different widths and lengths to create different shapes or angled to fit in countertop corners.
Consider one basin that is larger than the other to hold pots and pans.
Triple Basin Sinks
Triple basin sinks are typically wider than standard sized sinks and take up a larger amount of countertop space.
Choose different arrangements based on the look of your kitchen, such as placing two large basins with one small basin, three equal sized basins, or three basins of different sizes.
The third basin is often smaller and used as a kitchen prep sink.
Material - Copper
The right material determines the durability and the look of your sink. The material of the sink becomes especially important when it comes time to clean a kitchen sink, as you want a finish that can stand up to the scrubbing and the potentially abrasive chemicals used in keeping the kitchen clean. Consider both the aesthetics and maintenance requirements when choosing the material your sink is constructed of. 
Copper sinks have natural anti-microbial qualities that help reduce the spread of germs and grime in your sink. It is a 100% recyclable material and develops a copper patina that changes over time for a unique look. This living finish requires more care and attention than many materials to keep it looking clean and prevent damage from wear and tear.
If you would like to
cu
stom a copper kitchen sink for your kitchen,
 contact us today at 1-302-213-4406 or via email at sales@akicon.com.