Copper-Range-Hood
Range hood is one of the most important components of any kitchen, The whole point of this often ignored appliance is to draw up all the smoke, grease, odor, and fumes that cooking produces and exhaust them out of our homes safely to the great outdoors.
So, everyone should have a range hood to help keep indoor air as pure as possible. Beyond that necessity, did you know that a range hood can be a focal point in your kitchen?
Durability
Copper is a super-strong metal. It resists stains, dents, and scratches. Despite its strength, it's very malleable. You can really let your inner artist out when designing this piece. Copper can be shaped, cut, and adorned in any way you'd like.
Easy to Clean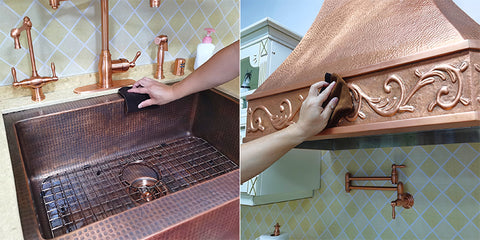 One of the best things about copper is how easy it is to clean. Cleaning your copper stove hood typically requires minimal effort to keep it looking great. Not only is it exceptionally durable, but it also only requires occasional wiping with a damp cloth and then a quick dry to achieve consistent cleanliness.
Here's another amazing fact about copper. It's naturally anti-bacterial! Because it's smooth, there are no nooks and crannies for germs to dig in and multiply.
Visual Beauty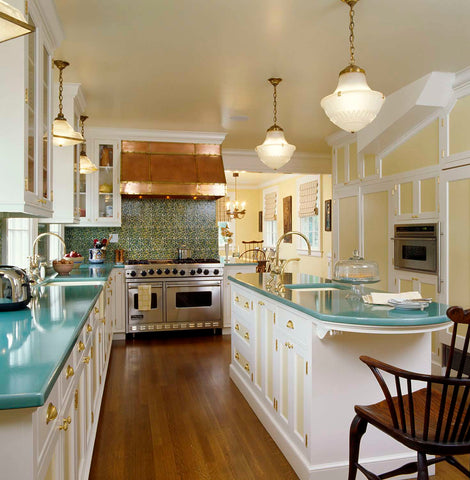 There seems to be a magical gleam inherent to copper. When used in a vent hood, it adds elegance and warmth to your home. Copper looks both timeless and modern It's what gives it shine and an incredible depth of color. It's as if Mother Nature gave it the gift of everlasting beauty.
Whether the range hood is a burnished orange color or a bright patina, copper adds special warmth to the kitchen that other materials just can't.
Copper can be molded to any size and shape. You're limited only by your imagination. Choose the look that suits your style and kitchen design best. The beauty of copper is that its color and texture can be fully customized.
Don't worry about mixing styles. Copper looks great when set against other natural materials, like wood, stainless steel, and stone. Add copper filigree accents or straps and rivets to add visual interest. There are so many possibilities.
Over time, copper does develop a patina. Some homeowners love that look and enjoy watching their range hoods change as the year's pass. If you'd prefer that your range hood retain its original copper color, you can tell us to apply a protective coating to it.
Affordable
If you're thinking that a copper range hood will be not a good investment, it probably won't.  Remember that the extra money that you put into it will come back to you.
While copper vent hoods may not be the most inexpensive option on the market, Yes, copper is more expensive than stainless steel or the more common aluminum. The addition of a under cabinet range hood to your kitchen will dramatically increase the value of your home beyond what you paid for the new feature. A copper range hood can increase the resale value of your home. A copper range hood also won't need frequent repair or replacement due to its outstanding durability and easy-clean nature. When you invest in something handcrafted it adds character and life to your home that bring happiness. And the best reason to opt for copper? It's just gorgeous, and you'll absolutely love spending time in your kitchen!
Have questions about how to choose the right range hood for your kitchen? Contact us today at 1-302-213-4406 or via email at sales@akicon.com.