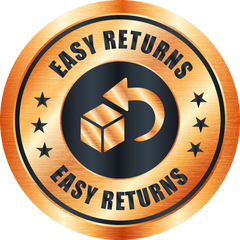 Akicon is dedicated to satisfying every customer to ensure that everyone who visits or orders on AKICON.COM would have a fabulous purchase experience in every phase. Aftersale service is an indispensable part, which deserves our full attention. By settling every dispute peacefully in a proactive manner, we believe that it is a way to improve ourselves to get closer to our customers. Akicon's return policy is a promise to every user of our website or product.
Note:
All of our items have a three months warranty. Items that arrive damaged or defective can be returned within 30 days after the order is placed on our website. We ensure that all of our items are brand new and in excellent condition prior to shipping. In the event that you receive an item that does not conform to those standards, please contact us via Emails sent to service@akicon.com. Please keep and use the original package for returns, or we reserve our right to reasonably refuse your return requirement. (Except for custom products)

If you cannot find the answer to your questions about our Return Policies on this page, please feel free to visit our

Contact us

 page for customer service assistance.
Akicon products are handmade from copper, stainless steel, wood, etc., and our warranty does not cover any patina, tarnish, or color changes that may occur to the product. Improper cleaning or care of copper-sealed products may result in patina changes or removal and are not subject to warranty claims. We do not consider product variances as defects. Any warranty claim will be subject to shipping charges.

WHICH PRODUCTS ARE CONSIDERED NON-RETURNABLE?

Any item that has been altered or installed
Any item that is not in resalable condition
Any item that is not in its original packaging
Any item without a prior return authorization
Items with custom strap placements, motifs, and designs to fit insert fans or sloped ceilings.
Products ordered through custom quotes (non-configurable on the website)
Design to fit insert fans
Installation is accepted.

HOW LONG DO I HAVE TO RETURN MY PRODUCTS?

If you are not satisfied with your order, we will accept a return up to 15 business days from the receipt of goods. Please note that all return requests must be completed within this 15-day period. Under no circumstances will merchandise be accepted for return after 15 days of the delivery date. Therefore, we ask that you check your order immediately upon receipt.
WHO PAYS FOR RETURN SHIPPING?
As soon as the product(s) are received back to our warehouse and upon inspection of the returned product(s), our team will issue your refund minus a restocking fee of the purchase price. Per inspection, as long as the product is found in new condition and received in its original packaging, you will be issued the refund you are due. If a returned product is determined to be in a damaged or unsaleable condition, it will be subject to additional fees being deducted from the credit, or the credit may be denied completely. Please allow 3-5 business days for the refund to appear on your account after issuance.
A: Non-quality related returns
1. Shipped returns will deduct applicable shipping charges from your refund if the return isn't a result of our error. If you insist on returning the item, you can contact us via email to state your return reason and request a return label. Our customer care team will inform you of the shipping cost. Please note that the returned items must remain intact without impacting the second sale. When the item is delivered to us, you can request a refund.

2. You can also choose a self-selecting logistics company to return the item, and the shipping expenses shall be borne by yourself. When you need the refund to be issued, you can send us an email indicating the order details and return tracking number to expedite the refund process.
Order Cancellation (Except for custom products)
1. Order cancellation before shipment: You could contact us via Emails to have the order canceled timely. Indicating the order details, such as the order number, receiver's name, and other key information will help us to locate your order immediately and cancel it in a prompt manner to avoid unnecessary troubles. You have 24 hours to decide whether to cancel it or not without any additional charge after the order is placed. Once you get cancellation confirmation from our customer care team, the full refund will be issued to you in two business days.

2. Order cancellation after shipment: Items will be sent out the (Except for custom products)second day after the order is placed. Cancellation after shipment will be liable to the recall cost charged by UPS. If you are aware of the charge and still want to have the order canceled, you can contact us and we would help you stop the delivery. After the item is returned by UPS, you can request a refund from us. This policy is only applied to the UPS ground delivery service. Items delivered by UPS repost, USPS, or truck do not allow to be intercepted. If you want to cancel the latter ones, you have to reject the packages when the shipping companies are trying to make the delivery, and shipping costs will be applied in this case.
B: Quality or other factors related to returns
If there is any quality issue with the item, please feel free to contact us, we will exert great effort to cope with the issue according to the status of the item with a partial refund, a full refund, or return for a replacement.
Send the wrong item
1. You can choose to keep the wrong item with a discounted price offered by our customer care team. In the meanwhile, you can request us to send you the correct item that you have ordered. In this situation, you have to only pay for the wrong item at a favorable price.

2. You can request a return label to send back the wrong item for the correct replacement or a full refund. After you have delivered the item to UPS, you can contact us for the replacement or the full refund as long as the return tracking number shows any further status of the shipment.
Item damaged during the shipping
Upon the receipt of the item, if you find the item is damaged, please reject the delivery of the item and take some pictures of the damaged item. After this, you can contact us via Emails to report the situation with pictures to have this solved.

Damages found after you have received the item, please contact us with pictures of the damaged item, we will either send you return labels to return the damaged item back for a replacement or a full refund or directly send you a new one or a full refund depending on the damage status of the item and your will.
Package Lost
After you have received the tracking number, still you haven't got the item by the expected delivery date. You may look around, check it with your neighbors, and contact the shipping company. After this, the package still does not show itself up. Contacting us with your phone number, we would set up a lost package claim against the shipping company to have your matter taken care of. It will take a while to get the investigation result from the shipping company. Please wait patiently during the period, and we would take relevant measures to have it settled.