Checking the size of the kitchen sink is necessary for more than just finding out if the sink will fit. Keep in mind both the size of the countertop and the primary use for the sink. If you do a lot of cooking and need the space to wash larger pots and pans, a bigger sink with deeper basins will be helpful and may be worth the effort of an upgrade. However, a large sink in a small countertop space can result in problems both during installation and in general, from keeping a clean kitchen sink to maintenance.
Start with the size of the sink currently installed. It may help to remove the sink before taking measurements. Measure the size of the sink for both the width and length, from edge to edge, and the depth of the basin. Take note of the location of the plumbing under the sink, specifically the kitchen sink drain placement.
Another necessary measurement is the countertop depth, which is measured from the back edge to the front of the countertop. The sink width should fit securely and centered within the cabinet, including space for the overhang of the sink lip. Be aware of these details, because different sink styles take up extra area on the countertop, more than just the basin size.
For instance, most drop-in kitchen sinks have a ½ inch lip, so a backsplash built onto the back edge of a laminate countertop can interfere with the lip overhang of a drop-in kitchen sink. A farmhouse kitchen sink requires a customized cabinet to accommodate the apron front panel, which will also change the sink's placement along the countertop. It's important to make sure there is space for the sink and a few inches extra.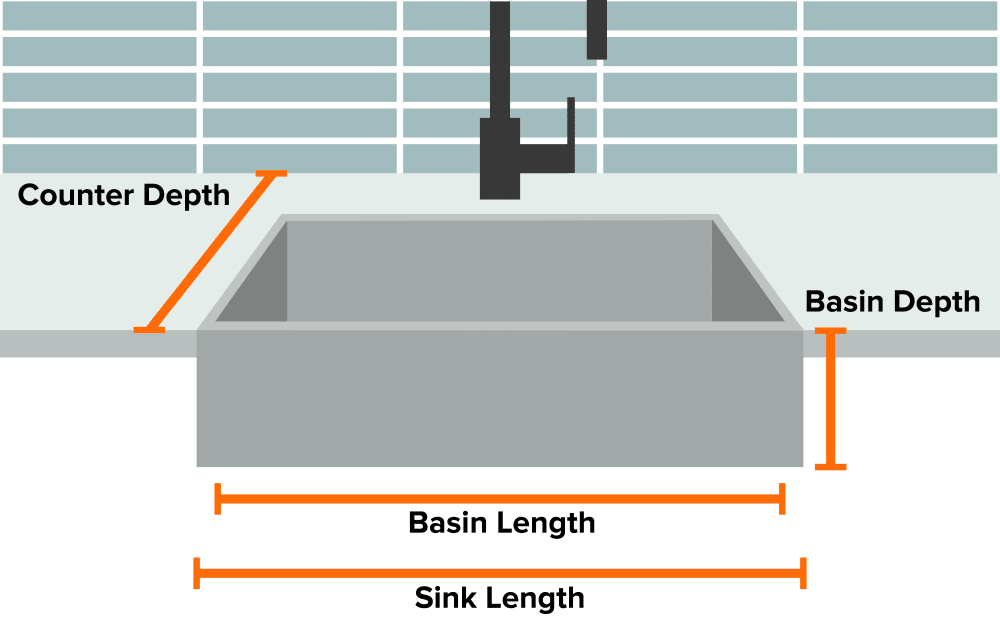 Additional tips on how to choose the right kitchen sink size include:
Position the sink closer to the front edge of the counter for comfort and access.
Basin depth and drain location can influence the amount of space available under the sink for things like garbage disposals and filtered water systems.
Make sure you have enough counter space on either side of the sink for food preparation, especially in a corner location.
When considering how to replace a kitchen sink, the new sink will need to fit into the existing cabinetry and match the plumbing placement. If you choose a different drain placement with the new sink, the plumbing will need adjusted to accommodate it and that may require the help of a plumber. It's always possible to choose a sink with different dimensions than the cabinet or countertop currently allow for, just plan ahead to adjust the counter cabinet and plumbing as needed.
If you would like to speak to a product specialist contact us today at 1-302-213-4406 or via email at sales@akicon.com.